Event: Our "Branding" – Danish and Japanese future of branding by Bold x Concent x Garden Eight
"Designing brands for culture, technology and people" – how does the landscape look like in the world of branding?  And what are the challenges designers are meeting in a modern society where culture is changing rapidly, technology is disrupting brand experiences and where segments of consumers are also wildly changing their habits and relations to brands, companies and products? Bold (Denmark) gives their first presentation in Japan! In collaboration with leading Japanese creatives from Garden Eight and Concent, they will have an open discussion about similarities, differences and learnings between Danish and Japanese cultures and approaches to branding.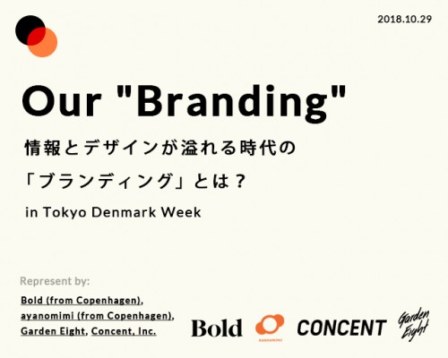 Presentation & Panel discussion:
Anders Holm (Account Director & Partner, Bold)
Muggie Ramadani (Creative Director & Partner, Bold)
Hiroki Noma (Director, Garden Eight)
Nayuta Oyamada (Art Director & Service Designer, Concent)
Facilitation:
Aya Okamura (Director, ayanomimi) & Jun Chijiwa (Dirctor, amu)
Event information:
Date: October 29, 2018
Time: 18:30-21:00
Place: amu, Ebisu (Tokyo)
Seats: 46 seats (sold out)
Event link
About Tokyo Denmark Week:
The event is a part of Tokyo Denmark Week 2018. A yearly event promoting Danish-Japanese collaboration and knowledge sharing within the fields of design and business. Coordinated by ayanomimi in collaboration with Japanese partners.